Welcome to Mangrove House, where you are supported to grow, heal, learn, and realise your best self. In addition to providing support to reflect on your values and goals, counselling can help to strengthen resilience and find new ways of coping with life's challenges. Our counsellors work with people aged 12+, from all walks of life. If you are facing any of the following, or are worried about another aspect of life, counselling at Mangrove House may be for you.
"We have learned that trauma is not just an event that took place sometime in the past; it is also the imprint left by that experience on mind, brain, and body."

"While trauma keeps us dumbfounded, the path out of it is paved with words, carefully assembled, piece by piece, until the whole story can be revealed."

"Grief can be the garden of compassion. If you keep your heart open through everything, your pain can become your greatest ally in your life's search for love and wisdom"

"Mindfulness lets you expand your view by placing you on the middle ground between denying your pain and overindulging in your suffering... You stay in contact with the entire scope of your existence, and you experience grief without becoming grief itself."

"Your vision will become clear only when you can look into your own heart. Who looks outside, dreams; who looks inside, awakes."

"Psychological flexibility is the ability to adapt to a situation with awareness, openness, and focus and to take effective action, guided by your values."

"Sadness is but a wall between two gardens."

"Every time you are tempted to react in the same old way, ask if you want to be a prisoner of the past or a pioneer of the future."

"We don't allow ourselves – or we're not allowed by others – to be entirely ourselves."

"We are what we are because we have been what we have been, and what is needed for solving the problems of human life and motives is not moral estimates but more knowledge."

Counselling provides dedicated time to explore what is really important for you to thrive in your own body and life. This will be different for everyone. At Mangrove House, our counsellors will be guided by you as the expert in your own life, and work towards therapeutically reinforcing your strengths with evidence-based approaches to minimise harm, develop your skills, support you with psycho-education and give you space to talk and explore. We work with you to understand and meet your individual needs.
We take a Person-Centred approach, drawing on evidence-based therapies such as, but not limited to, Acceptance and Commitment Therapy (ACT), Dialectical Behaviour Therapy (DBT), Gestalt Therapy, parts work based on the Internal Family Systems (IFS) model, Mindfulness-Based Cognitive Therapy (MBCT), Narrative Therapy, Schema Therapy, Solution Focused Brief Therapy (SFBT), and Somatic Therapy with a strong focus on trauma-informed care.
We take your confidentiality seriously. We conduct our business in line with our accrediting body, the Psychotherapy and Counselling Federation of Australia (PACFA) and its
Code of Ethics
. In preparation for your first session, please refer to the counselling agreement and policy guide forms linked below.
Each session is 60 minutes long and costs $132 (incl. GST). The Medicare rebate does not apply to the counselling services we offer. This also means you do not need a mental health care plan from your GP to make an appointment with our counsellors. In response to current COVID-19 conditions, social distancing and hygiene practices are being observed in session, with the option to conduct sessions online or over the phone as needed.

Natasha's core values of non-judgemental acceptance, belief in each individual's resilience, and compassion underpin her work as a counsellor. Specialising in the process of insight and understanding, and healing from trauma, she can support you to find the patterns and behaviours in your life that are no longer serving you. If you feel that something is no longer going well for you or that life seems to have lost its spark, together you can explore how to get back on track. Read more
Feeling seen, heard, and genuinely understood can be a powerful way to heal and grow. As a counsellor, Remona walks with you, shining a light on your natural desire to thrive, building on your strengths and assisting you to rewrite unhelpful narratives that no longer serve you. Combining shared insights with evidence-based practices that focus on building you up as the expert in your own life, Remona works with your goals, at your pace.
Read more

Our space is located in Suite 3 of the Saddlery (above Village Hub) at Level 1, 103A Johnston Street, Annandale NSW 2038. Here, you will find unmetered and all-day street parking (Johnston and Annandale Streets). The 469 and 470 bus routes take you right to us and the 480 and 413 routes bring you within a short walk. Once inside, you will find a comfortable waiting area, convenient bathroom facilities, and of course our spacious counselling room which allows for generous social distancing.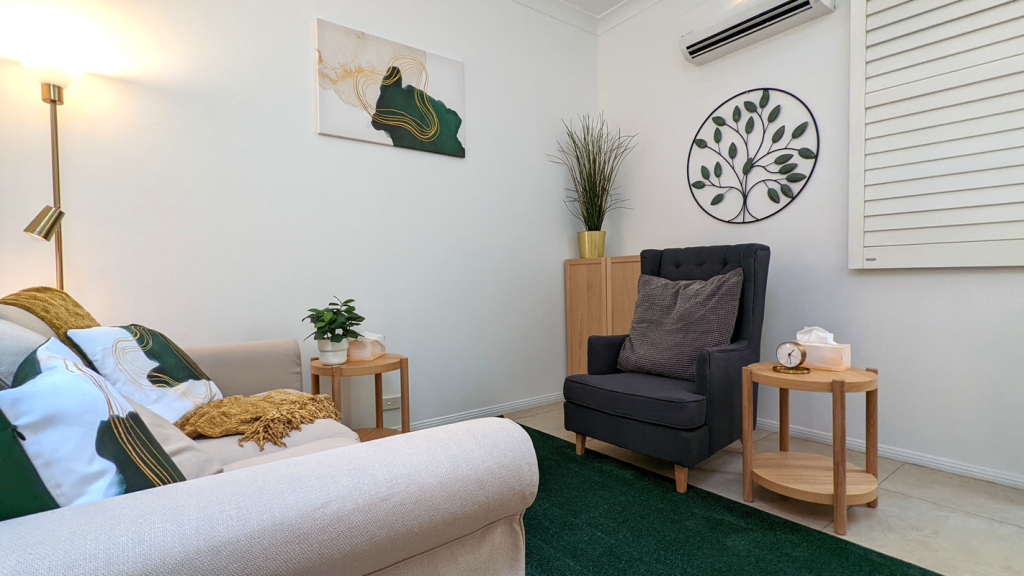 Mangrove House services all of Australia via telehealth. If in-person is the preferred option, our room in Annandale is located in Sydney's Inner West, within 5km of the following suburbs: Abbotsford, Alexandria, Ashfield, Auburn, Balmain, Balmain East, Barangaroo, Beaconsfield, Berala, Birchgrove, Breakfast Point, Burwood, Cabarita, Camperdown, Centennial Park, Chippendale, Chiswick, Concord, Concord West, Croydon, Croydon Park, Darlinghurst, Darlington, Dawes Point, Drummoyne, Dulwich Hill, Elizabeth Bay, Enfield, Enmore, Erskineville, Eveleigh, Five Dock, Forest Lodge, Glebe, Haberfield, Haymarket, Homebush, Homebush Bay, Homebush West, Leichhardt, Lewisham, Lidcombe, Lilyfield, Marrickville, Millers Point, Moore Park, Mortlake, Newington, Newtown, North Strathfield, Paddington, Petersham, Potts Point, Pyrmont, Redfern, Rhodes, Rookwood, Rosebery, Rozelle, Rushcutters Bay, Russell Lea, St Peters, Stanmore, Strathfield, Strathfield South, Summer Hill, Surry Hills, Sydney CBD, Tempe, The Rocks, Ultimo, Wareemba, Waterloo, Woolloomooloo, Zetland.